Originally at http://www.socialmediaexaminer.com/10-ways-to-use-the-new-linkedin-mobile-app/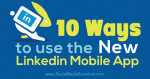 Have you tried out the new LinkedIn app?
Do you want to make the most of its features?
The new LinkedIn app makes it easy for marketers on the go to do nearly everything they'd do on a desktop from a mobile device.
In this article, I'll share 10 ways to use the new LinkedIn mobile app to stay in touch with your professional contacts.
Listen to this article:
#1: Write Updates
The LinkedIn mobile app makes it easy to create and share updates, especially if you want to use images.
To get started, go to the Home tab and click the Share button or Photo button at the top of the screen. If you click the Share button, you can create an update that includes text, links and mentions of other LinkedIn members. You can even upload a photo.
Click the Photo button to take a picture or share an image from your gallery. Go this route if you know you want to share a pic.
When you select Take a Photo or click the camera icon, it will go right to your camera. After you shoot the picture, you have the option to save or discard it. Then write your update and click to share the image.
As an added bonus, you can now easily choose to share to your whole LinkedIn network, to LinkedIn and your Twitter account or to only your first-degree connections.
Previously, you could only upload photos from your gallery. Now, if you're at an event, you can take a live pic and post it to LinkedIn as an update in seconds.
Customized Graphics
The ease of posting visuals on LinkedIn's mobile app is a powerful feature for visual marketers. Use a program like Word Swag (iOS) or Textgram (Android or iOS) to create a beautiful quote graphic. Then share it as an u…
For Your Full SEO Site Report visit http://nationwideseo.com.au/site-report/