Originally at http://www.socialmediaexaminer.com/14-instagram-tools-for-marketers/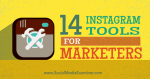 Are you a busy marketer?
Wondering which tools and apps will help you stand out on Instagram?
Using the right Instagram tools can improve your images, sell products, and save you time.
In this article you'll discover 14 Instagram tools to help busy marketers use Instagram for business.
Listen to this article:
#1: Photo Apps
Not long after Instagram started gaining popularity, new apps began popping up with features like photo editing, new filters, and options to make your images more dynamic. These apps allow you to make your posts more diverse and interesting, increasing views and engagement in the process.
Layout
Layout from Instagram is a free app available for both iOS and Android that makes it easy to create multi-image collages to post on Instagram.
The collages can be visually dynamic and you can feature multiple images (and products) within a single post. Choose from various formats that differ in layout and number of images.
This app was created by Instagram, so integration is easy and the quality is high.
Quick
Quick makes it easy to add text to an image, allowing you to adjust the placement, size, color, and font.
You can share the edited image on multiple social network sites in addition to Instagram, including Facebook and WhatsApp.
The app is free, but you can make in-app purchases to access more features.
Afterlight
If you feel limited by the extent of Instagram's photo editing options and filters, look no further than Afterlight. This app makes photo editing fast and easy.
Currently you get access to 15 adjustment tools, 74 filters, 78 textures, 128 frames, and 15 preset …
For Your Full SEO Site Report visit http://nationwideseo.com.au/site-report/