Originally at http://www.socialmediaexaminer.com/23-tools-and-tips-for-social-media-marketers/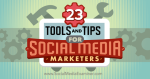 Do you need to streamline your daily social media tasks?
Looking for tools to increase visibility?
The right apps can make a world of difference in the life of a busy social media marketer.
In this article you'll discover 23 of the top tools and tips shared on the Social Media Marketing podcast.
Listen to this article:
#1: BuzzSumo Chrome Extension
The BuzzSumo Chrome extension shows you the share counts on any site you are on for all of the different social networks, including Twitter, which recently shut off the API that allowed third-party tools to collect Twitter counts on articles.
If you want to track the number of shares a piece of content gets on Twitter, this plugin will reveal that data for you.
There are a couple of other cool features that let you view which Twitter users shared a page you're tracking, the backlinks pointing to that page and other content from the page's author. You can also see some of the most shared content on that site and even analyze the website.
The BuzzSumo Chrome extension is free but requires a free or paid BuzzSumo account.
#2: Scannable by Evernote
Scannable by Evernote lets you use your mobile device to take a picture of a document when you don't have a scanner. Pull up the app, hover the camera over anything (such as a piece of paper or a business card) and it automatically scans and crops it.
Hold it over a business card, and like magic it scans the card without pushing any buttons. Afterward, it asks if you want to add the person as a contact. If your Evernote is connected with LinkedIn, it will create a contact and pull in their data from LinkedIn.
Scannable is a free…
For Your Full SEO Site Report visit http://nationwideseo.com.au/site-report/