Originally at http://www.socialmediaexaminer.com/5-creative-ways-to-grow-your-email-list/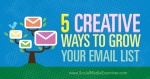 Want to grow your email list?
Got a blog?
New tools and placement options have made it easier than ever to create an offer that compels blog visitors to share their email address with you.
In this article you'll discover five unique ways to grow your email list from your blog readers.
Listen to this article:
#1: Put Your Best Offer on Your Homepage
To encourage email signups, show the value of being an email subscriber on the homepage of your blog. The main focus should be on your opt-in box.
Place the links to other areas of your site below the fold, so readers won't see them unless they scroll down the page.
Bluewire Media collects email addresses directly from their main page. Below, they offer visitors free marketing templates in addition to news and updates delivered to their inbox.
#2: Use a Feature Box to Present Lead Magnets
If you don't have a custom homepage or don't have the resources to redesign your current homepage, a feature box might be a good option for you.
A well-designed feature box exchanges your lead magnet for new email addresses. You typically place the feature box above the fold of your page so it's immediately visible to users.
Unlike entry pop-ups, feature boxes don't interrupt visitors from scrolling down the page and browsing your blog content. They can either take your bonus or scroll down the page.
The feature box at DIYthemes increased the blog's subscription rate by 51.7%. Feature boxes convert well even if they're subscription-only and don't offer a lead magnet.
Choose a good opt-in offer, such as a free email course. The Enchanting Marketing blog offers readers a free writing cours…
For Your Full SEO Site Report visit http://nationwideseo.com.au/site-report/