Originally at http://www.socialmediaexaminer.com/6-instagram-tools-to-improve-your-marketing/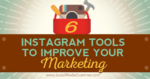 Do you want to take your Instagram marketing to the next level?
Have you considered using tools to support your efforts there?
Adding the right Instagram tools into your marketing flow can help you project a more professional image and give you valuable analytic insights.
In this article you'll discover six tools to improve your Instagram marketing.
Listen to this article:
#1: Filter Your Images for a Signature Look
The first step to any successful Instagram account is to tell your company's story. Your images are a reflection of your business, and you want them to appeal to your target audience on an emotional level.
It's important to have a cohesive look to your images that unifies your brand assets. One tool that can help with that is A Color Story. This app makes it easy to fine-tune your photos and give them a more professional look before posting them to Instagram.
The app's filters will help enhance your images and make them pop; they won't overexpose them or make them look grainy. You can use the app's five basic filters for free or buy all of the filters for $7.99. It's best to stick to one (or two) filters to give your photos a consistent look. Choose an attractive filter that unifies all of the images you post to Instagram.
Tip: Avoid posting images on Instagram that are unrelated to your business or the story you want it to tell.
#2: Embed Your Instagram Feed for More Visibility
You want your Instagram feed to get in front of your target audience as much as possible. One way to do that is to embed it on your website or blog with a tool like SnapWidget. Embedding your feed on your site gives you free advertising and social r…
Need help with your Digital Marketing? Fill out this form and see what we can do you for you and your Business http://nationwideseo.com.au/discovery-page/