Originally at http://www.socialmediaexaminer.com/7-ways-to-stand-out-with-linkedin-visual-content/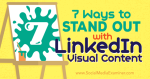 Do you want to attract more attention on LinkedIn?
Have you considered adding visuals to your profile?
Consider using images to build out each section of your LinkedIn profile.
In this article I'll share seven ways to improve your LinkedIn profile with visuals.
Listen to this article:
#1: Connect a Face to Your Name
While it might seem obvious, many LinkedIn users fail to use the most powerful visual element: their profile photo.
To upload a personal photo, go to your Edit Profile page (choose Profile > Edit Profile), hover your mouse over the existing photo in the upper-left corner and click the camera icon.
In the window that pops up, you can add a new photo or crop the one you're currently using. Ideally, you should upload your profile photo at 400 x 400 pixels.
Make sure your photo is consistent with the message you want to send as professional.
#2: Complete Your First Impression
When combined with your profile photo, your background photo creates a strong visual first impression for profile visitors. You can use this image to connect your personal presence with your brand, show love for your home city or promote the company you work for.
To upload a background image, hover your mouse over the background area and click on the Edit Background button that pops up.
From there, you can upload any photo you want at the recommended size of 1400 x 425 pixels, or if you have a premium account, you can choose an image from the LinkedIn image gallery.
Your background photo is an excellent opportunity to make a statement to profile visitors.
#3: Dress Up Your Publisher Articles
Writing ar…
For Your Full SEO Site Report visit http://nationwideseo.com.au/site-report/