Originally at http://www.socialmediaexaminer.com/facebook-mobile-apps-a-guide-for-marketers/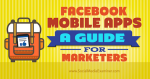 Do you manage your Facebook marketing on the go?
Are you looking for mobile apps to help you?
Facebook mobile apps make it easier than ever for marketers to manage their pages and respond to customers in real time from their mobile device.
In this article, you'll discover the key things marketers need to know about using Facebook mobile apps.
Listen to this article:
#1: Manage Your Page With the Pages Manager App
Rather than use the native Facebook mobile app to manage your page, use Facebook's Pages Manager app. The app lets you manage up to 50 pages from your smartphone or tablet, and it's available for both iOS and Android.
Manage Admins
Facebook lets you assign five different types of admins: Editor, Moderator, Analyst, Advertiser, or another Admin (full access).
To use the app to assign an admin role to someone, tap Page Settings and then Edit Page Roles.
Next, tap Add Person to Page at the top of the screen and type in the person's name. Then select a page role for that person and tap Add.
If you want to change someone's role, tap the pencil icon to the right of his or her name (as shown above). Then select a new role and tap Save to save your changes.
Create Posts, Schedule, or Save Drafts
Sometimes Facebook business users get confused about whether they're posting and commenting as themselves or their page. There is no confusion when using Pages Manager, because you need to sign directly into the app as your page. Even if you have your post attribution set to your profile by default, in Pages Manager, your default will be the page.
Similar to the regular Facebook mobile app, you can create and …
For Your Full SEO Site Report visit http://nationwideseo.com.au/site-report/