Originally at http://www.socialmediaexaminer.com/facebook-reactions-what-marketers-need-to-know/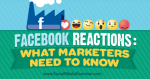 Have you seen the new Facebook reactions?
Wondering how they'll affect your Facebook page?
Facebook reactions let Facebook users go beyond liking a post by allowing them to choose from six emojis that show different emotions.
In this article I'll explore how Facebook reactions work, and how your Facebook page can get the most from them.
Listen to this article:
Facebook Reactions for Fans
The new Facebook reactions work pretty easily for users. When users hover over a post's Like button in the Facebook news feed, a personal profile timeline, or a Facebook page timeline, they will be able to choose from one of the new six Facebook reactions.
Everyone can breathe a sigh of relief that Facebook reactions do not include a Dislike button. Hence, people cannot dislike your latest post (product, service, content, etc.). These reactions will simply allow expressions of like, love, laugh, wowed, saddened, or angered by your post.
The feature will work similarly for mobile users, but users will hold down the Like button instead of hovering over it.
Some mobile app users have noted that you must restart or update your app to get the new feature to work. Others have had to log out of their account and log back in again.
Facebook Reactions for Pages
From a Facebook page admin perspective, a few things will change. For starters, you'll see in your notifications that people are reacting to your posts instead of just liking them.
On the posts themselves, you'll see an array of icons representing the different reactions that people have left on the post. On older posts, you'll see the new icon that represents likes, and on newer posts, y…
For Your Full SEO Site Report visit http://nationwideseo.com.au/site-report/