Originally at http://www.socialmediaexaminer.com/how-to-assess-and-improve-your-social-media-marketing-a-monthly-plan/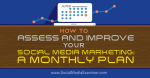 Is social media working for you?
Want better results?
Regularly analyzing the performance of your social media marketing helps ensure your content and profiles are delivering.
In this article you'll discover four monthly assessments to improve your social media marketing results.
Listen to this article:
#1: Review Key Performance Indicators
Most marketers will tell you that if you didn't measure it, it didn't happen. Before you go running to your dashboard, though, it's important to know what you need to measure. Determine which key performance indicators (KPIs) actually matter to your business.
B2Cs, for example, often care about engagement and brand awareness. This means metrics such as likes, shares, comments, followers and retweets. B2Bs, on the other hand, put more weight on the clicks, conversions and website traffic coming from social channels.
Look at the numbers to see where your leads are coming from, when and how they convert and what types of content produce the greatest returns. From there, you can determine what to tweak for the best possible performance, and what to discard or modify.
You can (and should) consider both quantitative and qualitative metrics. Quantitative factors are more concrete and easier to measure (optimal time of day and character count). Qualitative factors are more abstract (subject matter and tone of voice) and can be a bit trickier to measure accurately.
Quantitative Metrics
Once you've selected your KPIs, start with the quantitative analysis. 
Pay attention to the best times to post your social content. Many social media tools automatically analyze this for you, but you can al…
For Your Full SEO Site Report visit http://nationwideseo.com.au/site-report/