Originally at http://www.socialmediaexaminer.com/how-to-develop-a-social-media-reporting-system/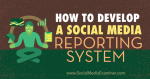 Are you responsible for reporting your social media results?
Do you need to develop a reporting system?
Knowing who you report to and what metrics they need will help you streamline the process and ensure you're delivering reports on time.
In this article you'll discover how to develop a social media reporting system for your business.
Listen to this article:
#1: Identify Stakeholders and Goals
The first step is to do a quick audit of your current reporting process and find out which stakeholders receive your reports. If you know whom you're reporting to and why, you can ensure your reports will be useful to everyone involved.
Find out who receives the social media data in your organization. You may send reports to one person, but that person may then forward them on to others. Also, different teams have different needs. For example, a PR team may have different expectations than a community management team.
Next, discover what actions your reports support so you don't waste time reporting on metrics no one uses. Talk to the people you report to, find out their needs (and wants) and see what you can learn about the current state of your social media reporting. You'll likely find some overlapping goals and be able to identify areas of commonality.
If you're the sole owner and consumer of social media reporting in your company, identify what you need to know about your performance and what you'll do with this information. Try to distill it to a few clear goals, which will make everything easier in later steps.
#2: Decide What Metrics to Track
When deciding what to include in your reports, find metrics you can use in multipl…
For Your Full SEO Site Report visit http://nationwideseo.com.au/site-report/