Originally at http://www.socialmediaexaminer.com/how-to-drive-traffic-to-your-blog-posts-a-game-plan-for-the-top-social-networks/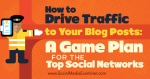 Do you want to drive more traffic to your blog?
Looking for ways to use social media to promote it?
Understanding how to best share your blog posts on many social networks will maximize your visibility and reach.
In this article you'll discover how to promote your blog articles on Facebook, Twitter, LinkedIn, Instagram and Pinterest.
Listen to this article:
#1: Spread the Word on Facebook
There are multiple ways to share your blog articles on your Facebook personal and business pages.
Update Your Status With a Link
When you first post about your blog on social media, the easiest thing to do is to share a link. But rather than simply restate the title in the update, lead into it with a question, a statistic or a bit of interesting information to tease what's in the article so people will want to read it.
Create and Share Photos
Image posts stand out on social channels. Facebook allows you to share one or multiple photos with a status update to your business page. (You can only share a photo or a photo album on your personal page.)
Start with an engaging photo that's representative of your article, with or without the post's title. If there are multiple photos in your article or if it's a how-to or tour of your products, upload the photos as an album, or even better, a photo carousel.
For clarity, it's better to upload larger photos rather than smaller ones, especially given how many people view social media via mobile. Facebook will resize the photos to fit. Here's a comprehensive list of social media image sizes.
Remember to include the article link and a headline when you post photo updates.
Upload a Video</…
For Your Full SEO Site Report visit http://nationwideseo.com.au/site-report/