Originally at http://www.socialmediaexaminer.com/how-to-extend-the-life-of-your-social-media-content/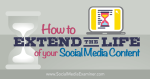 Wish you didn't have to keep creating new content?
Do you need a better return on the content you create?
Having a plan in place for posting, and repurposing your best content will give your content a longer life and make the most of the time you spend creating it.
In this article you'll discover how to get more value out of your social media content.
#1: Tailor Your Content Posts to Each Network
Here's the dilemma. Some of your customers and prospects spend their social networking time on Facebook, while others favor LinkedIn. However, you have a blog post you want both groups to see.
Listen to this article:
The first idea that comes to mind is to post the same piece to both networks. But you're not sure that's the right thing to do, and you don't want to appear lazy or insincere to those who follow you on multiple networks.
The solution is simple: Tailor that one content piece to each network you're posting it on. Posting across social channels in a way that respects the quirks and qualities of each individual network is a win-win: You'll make your audience happy and increase your marketing ROI.
Here are a few things to consider when tailoring your content:
Understand each platform. Each social network serves a different purpose. Facebook is very flexible in allowing you to post a mix of text, images and video content, but stiff competition might encourage you to think outside of the box.
On Twitter, your goal is to engage quickly and concisely.
On LinkedIn, people are primed to learn about industry trends and data that are relevant to them, be it in the form of a long blog post or short status updates.
Also, extract importa…
For Your Full SEO Site Report visit http://nationwideseo.com.au/site-report/