Originally at http://www.socialmediaexaminer.com/how-to-find-local-customers-with-twitter/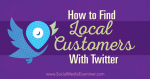 Do you use Twitter for your business?
Looking for ways to connect with local customers?
There are tactics you can use to improve the visibility of your local business and identify potential leads.
In this post you'll discover three ways to connect with local customers on Twitter.
Listen to this article:
#1: Add Location Data to Your Tweets
Enabling location data on your tweets lets Twitter users recognize when they're in close proximity to your business. They may be ready to buy from you at that point, after all, and turning it on will let users click on the location marker icon on your tweet to find out where your business is located. That's one step closer to a sale.
The tweeting with your location feature is disabled by default. To turn it on, compose a tweet and then click on Location Disabled. In the pop-up box that appears, click Turn Location On.
Twitter will then suggest a location. If you want to choose something different, click the location marker, and then choose a location from the menu or enter a location in the search field at the top of the menu.
Your Turn Location On settings are saved, so the next time you compose a tweet, your location information will be added automatically to the tweet.
After you publish your tweet, your location will be displayed when it appears in users' timelines.
#2: Find Leads With a Local Hashtag Search
One way to find local customers on Twitter is to use a tool like Hashtagify to search for people using specific hashtags. Then after you've compiled a list of potential leads, add them to a private Twitter list and start engaging with them.
Here's how to get started.
Search fo…
For Your Full SEO Site Report visit http://nationwideseo.com.au/site-report/