Originally at http://www.socialmediaexaminer.com/how-to-get-started-on-the-most-popular-social-media-networks/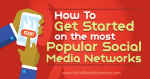 Are you starting a new social media presence?
Do you know what to share on each platform?
In this article, you'll discover tips to guide your posting on six social media networks.
Listen to this article:
#1: Start a Conversation on Facebook
People typically use Facebook to catch up on news and chat with friends. If you want to connect with your audience, you can't just copy a headline and call it a day.
Instead, ask a question or tease what makes your post interesting. Picture someone sharing the post with their friends. Encourage that with your tone.
Your posts will get more engagement on Facebook if you include an image. Share a link and choose a bold image to catch the attention of your fans.
You can upload a photo or video directly to the platform. Facebook's algorithm favors native videos uploaded directly. Keep your photos in the 1200 x 630 pixel range.
Remember, if you want to boost the post or use it as an ad, the image must include less than 20% text.
Facebook users are most active in the afternoon. A general rule is when people are bored at work, they're probably browsing Facebook. One study found that Facebook posts at 3 pm receive the most clicks. Thursday and Friday tend to be the busiest days.
Keep an eye on your Facebook analytics to see which posts get the most engagement and adjust your posting schedule accordingly.
#2: Inspire and Educate on Pinterest
People come to Pinterest on a mission. They want to learn a new skill, buy a new product, or find a new project. For these reasons, valuable and informative posts get the most engagement.
Pinterest favors information-rich captions, which can be up to 5…
For Your Full SEO Site Report visit http://nationwideseo.com.au/site-report/