Originally at http://www.socialmediaexaminer.com/how-to-increase-awareness-generate-leads-and-create-advocacy-with-social-media/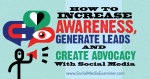 Have you been tasked with generating more awareness, more leads and more advocates?
Need a plan to get you started?
In this article you'll discover how your business can use social media to achieve three of the most common marketing goals.
#1: Increase Brand Awareness
Perhaps your brand isn't a household name and you'd like more prospective customers to know who you are. Social media can help you get there. Here are some ways to jumpstart your brand's presence through social media:
Listen to this article:
Establish fully fleshed-out profiles on the major social networks. Create company profiles on the big four social channels: LinkedIn, Facebook, Google+ and Twitter. Make sure your company logo and bio are consistent across all of your social sites.
Decide which social network you'll spend the most time on. Depending on your market segmentation and customer research, it might make sense to spend more time on one network and less on others. For example, LinkedIn is consistently the best social outlet for B2B lead generation, and Google+ tends to attract professionals in the technology space.
Consider advertising. When you first sign onto a social network, you don't have any connections because no one knows you're there. One way to make yourself known is through advertising. Each social network has intriguing ad options (like media-rich Twitter cards and Facebook sponsored posts) that help you target the prospects who will most likely click through and get to know you.
Create a content schedule. Consistency is key in social media. Before you start posting, create a content schedule that allows you to develop your brand story one social …
For Your Full SEO Site Report visit http://nationwideseo.com.au/site-report/