Originally at http://www.socialmediaexaminer.com/how-to-prospect-using-twitter-linkedin-and-facebook/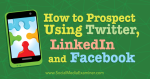 Are you looking for more business?
Wondering how social media can shorten the sales process?
Twitter, LinkedIn, and Facebook make it easy to develop relationships with potential customers before you ask for a meeting.
In this article you'll discover how to connect with prospects on social media.
Listen to this article:
#1: Research Your Prospects
Researching prospects is critical to the sales process. As a salesperson, you want to know everything you can about your prospects and the companies they work for.
You'll want to follow the news announced on their website, find out if they've hired someone special, look into whether they've raised money, and research how their stock is doing (if they're a public company).
How do you guide your sales team to do this? Here are three social networks to start with.
Twitter
Find prospects and their companies on Twitter and see what type of content they're posting to their accounts. Do they answer each tweet? Are they tweeting multiple times a day? This type of data lets you get a glimpse into the person and company you want to do business with.
LinkedIn
The easiest way to find out what companies are up to is to research them on LinkedIn. For example, you might discover that a company regularly publishes how-tos on sales and marketing or that the CEO writes articles himself.
To get information on prospects, look at their LinkedIn profile. Find out where they've worked in the past and where they went to school.
Look for any information in their profile that you can identify with. If you find something, make a note of that information for future conversations.
It's also helpful to note…
For Your Full SEO Site Report visit http://nationwideseo.com.au/site-report/