Originally at http://www.socialmediaexaminer.com/how-to-publish-content-on-apple-news-a-step-by-step-guide/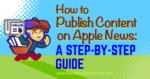 Do you want more exposure for your content?
Have you considered publishing your content on Apple News?
Apple News lets you deliver both visual and text-based content directly to a growing number of iOS mobile devices.
In this article, you'll discover how to become an Apple News publisher.
Listen to this article:
What Is Apple News?
Apple News is a preinstalled application on every iOS device (version iOS 9 or later). The app delivers traditional text-based content, videos, and photo galleries from a variety of sources, including magazines, websites, and newspapers.
Anyone in the US, UK, and Australia can sign up as a publisher and produce content for Apple News. Once you publish an article, it's added to the Apple News app, and the content is automatically optimized for all iOS devices. This ensures that readers have a great experience, no matter which device they're using.
Before you can publish content for Apple News, you need to sign up as a publisher. Here's how to get started.
#1: Sign Into iCloud
To start the sign-up process, go to https://www.icloud.com/newspublisher/ and then click Continue.
Sign into your iCloud account with your Apple ID (which is your device's associated ID). You'll need to accept the end user license agreement to continue.
#2: Provide Publisher and Channel Information
On the next page, fill out your publisher information and then click Next.
You'll also need to provide additional information to set up your channel. When you're finished, click Next.
#3: Upload a Logo
You now have the option to upload a channel logo. (Note: You can skip this step.) Make sure your logo is a PNG file with …
Need help with your Digital Marketing? Fill out this form and see what we can do you for you and your Business http://nationwideseo.com.au/discovery-page/