Originally at http://www.socialmediaexaminer.com/how-to-use-facebook-messenger-for-your-business/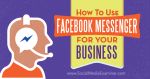 Looking for a new way to connect with customers and prospects on Facebook?
Have you considered Facebook Messenger?
Messenger for business pages makes it easy to offer instant one-on-one customer service, while keeping a record of the conversation.
In this article I'll explain how to use Facebook Messenger with your business page.
Listen to this article:
Why Facebook Messenger for Business?
There are 800 million people who use Facebook Messenger each month. The instant messaging service is available to anyone, whether they have a Facebook profile or not.
When Messenger first became available for business pages, Facebook users could message page owners and the page owners could reply.
Now, page owners can respond to anyone who has commented on their page, privately or publicly. To keep privacy levels in check, businesses can't download the email addresses of fans nor can they initiate conversations with users.
The ability to direct message your audience is extremely powerful, especially since Facebook would rather have users stay on their platform (rather than jumping over to email).
More than 89% of users access Facebook on their mobile devices and they check Facebook 14 times a day. Those people have an intimate relationship with Messenger. When your company starts conversations with users, you're befriending them on that level. This is how to change business relationships into personal ones.
Globally, Facebook continues to roll out Messenger features designed to help businesses efficiently manage their communications.
Note: With the number of Messenger users hurtling towards the milestone of its first billion, look …
For Your Full SEO Site Report visit http://nationwideseo.com.au/site-report/