Originally at http://www.socialmediaexaminer.com/launching-on-social-media-a-timeline-for-business-owners/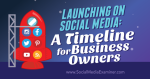 Are you starting from scratch with social media?
Got a new product or a new business?
Having a social media launch plan is essential.
In this article you'll discover a step-by-step plan for launching your new social media presence.
Listen to this article:
#1: 12 Weeks Before Launch: Choose Your Social Platforms
A few weeks before launch, choose which platforms you'll use to launch your brand.
It's important to decide (or find out) how seriously you're going to take social media in the next 1-2 years. It's better not to launch on a platform at all than to launch it, post four times and then forget it.
This is also when the social media manager (or team) should be coordinating with the marketing team or other marketing agencies (depending on the size of the company) to make sure the social media plan is integrated into a big-picture marketing approach for the brand.
You'll want to do a competitive analysis to get a feel for your market. This makes it easier to decide how you want to differentiate. If every coffee shop in the city is on Instagram, it doesn't mean you (as a new coffee shop owner) have to start posting latte art with filters.
Determine your overall goals for converting social media followers into customers (and back again), and spend some time thinking about which platforms best support those goals.
Finally, plan 10-15 sample posts for each platform you'll kick off on launch day. Pass the posts around to the marketing team and key decision-makers. Or, if you're a solo-entrepreneur, try them out on socially savvy friends. This will give everyone (including you) a taste for your brand voice. If you report to highe…
For Your Full SEO Site Report visit http://nationwideseo.com.au/site-report/